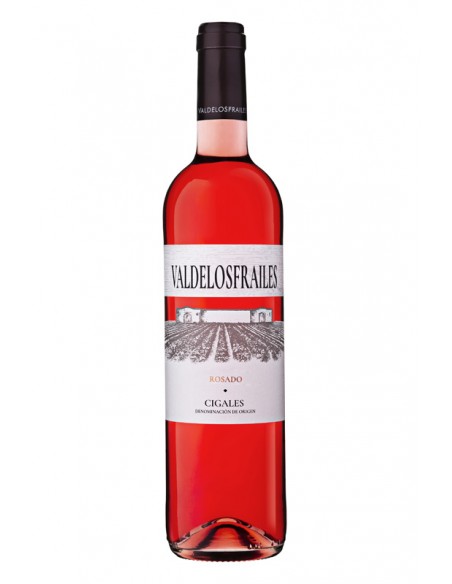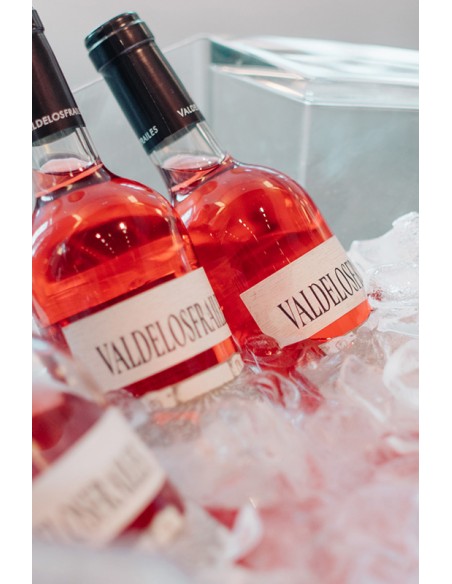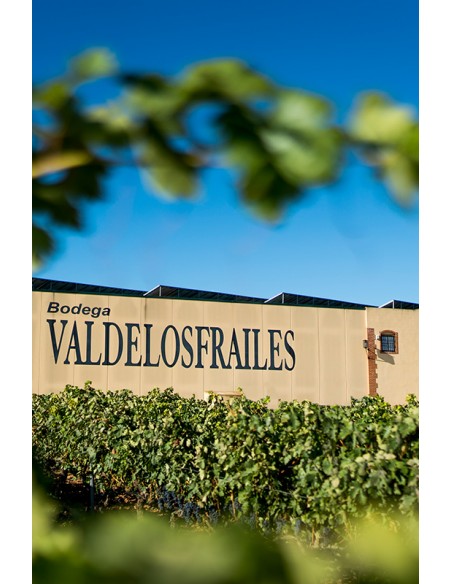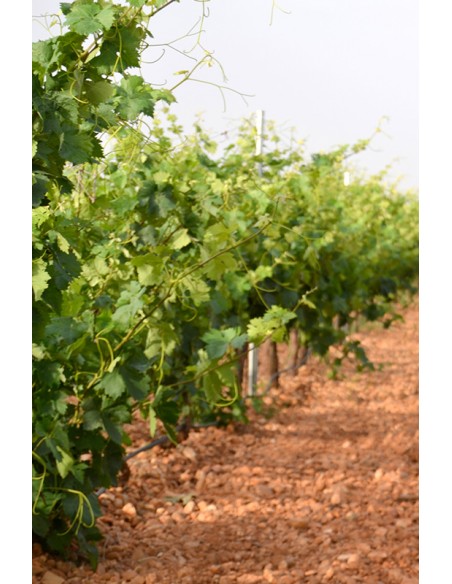 copy of Valdelosfrailes Rosado 2019
Pairing

Excellent for tasting. It can be enjoyed with pasta salads, escabeche on toast, cheese or pickles, ceviches, seafood or vegetable cold creams, white fish, calamari and octopus.
Designation of Origin Cigales
Valdelosfrailes Rosado (Designation of origin Cigales) is a traditional claret wine of the region, fresh, lively and balanced made with grapes from our own vineyards of Valdelosfrailes Winery in Cubillas de Santa Marta and Quitanilla de Trigueros. It is made with Tempranillo variety grapes, which are perfect for making this type of wine. Its controlled fermentation brings out the intensity of the fruit with floral notes.

The Designation of origin Cigales is renowned for its traditional claret or rosé wines, with this wine in particular preserving that tradition and contributing its own personality, resulting in a unique rosé wine.

The vineyard
This rosado wine is made with Tempranillo grapes with a slow fermentation at a very low temperature, which together with the special care we take in its winemaking brings out the intensity of the red fruit and the floral notes that characterise it.
Finca Las Costanas is a more than 30-year-old vineyard that surrounds the Valdelosfrailes Winery and provides a unique, concentrated Tempranillo with many nuances.
Finca Valdeví provides its freshness, it is a young Tempranillo estate on the clay-loam hillside of the Cubillas Moor.

Finca Aldor is a 100% tempranillo trellis vineyard, a mature and settled estate that shows its character in a homogeneous, ripe and very fruity grape. 

The wine

This rosé wine shows a bright eye of the partridge colour with an orange iridescence. It is highly intense in the nose, with aromas of fresh forest fruits, such as currant or blackberry, due to its fermentation at very low temperature. It also shows floral notes of lavender and subtle aniseed notes combined with a fine minerality resulting from the complex blending of the different origins of the Tempranillo grape.

In the mouth it has an excellent balance between the fresh sensations of acidity and the aromatic stage that add complexity to the wine, with elegant notes of fine strawberry, blackberry and also notes of fruits with seed, with a lively and elegant finish that entices a new sip.


AWARDS AND RATINGS

Mondial du Rosé Gold Medal

Baco de Oro
Ageing

Joven

Denomination of Origin

Cigales

Vintage

Winery

Valdelosfrailes Winery

Bottle Size

75 cl.

Allergens

Contains sulfites

Service Temperature

Servir a 8-9º.

Country of Origin

ESPAÑA

Alcoholic Strenght

13,50%